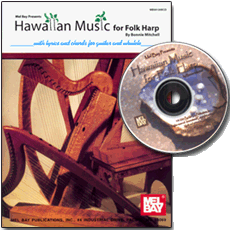 My Kealakekua studio offers a variety of harps and many harp publications. Harps in showroom include: Triplett and Dusty Strings Harps also available from Triplett, Dusty Strings, and Lyon & Healy & Salvi Harps.
Strings, from size 22 to Concert Grand, and other accessories available.
Hawaiian Music for Folk Harps by Bonnie Mitchell is also for sale at this location. For more information on my book please click on the Hawaiian Music For Folk Harp link to the left.