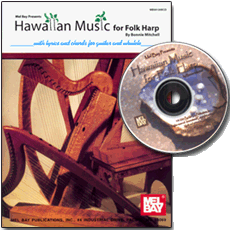 The sheet music in this book are traditional Hawaiian. They are enjoyed at island gatherings. Some are hula songs. "Koni Au I Ka Wai" is a party song and "Ke Aloha O Ka Haku" is a prayer. These two songs were written by Hawaiian Alii (Royalty). Music was and still is a very important part of Hawaiian life. The earliest Hawaiian music was known to be chants. This was an oral tradition.
These songs are played in a relaxed manner. Rhythm is not always strict and notes may be held according to feeling. Some singers will add their own verses.
There are 15 songs. Numbers 1-15 are arranged for large folk harps tuned to E flat with a full set of levers. (Pedal harpists set pedals.)

Numbers 16-30 are the same songs in alphabetical order and are arranged for small harps tuned in C.
Many are playable without levers, and some arrangements require levers on F and G.
There are chords for ukulele, guitar and harp accompaniment. Words for vocalists are also included. "Kani ka pila!" (Play music!)


The following arrangements are included in this book and accompanying CD: